The number of ePassports closed in on approximately 263,966 thousand units in 2018, and will record 19% Y-o-Y growth in 2019, according to a new study of Future Market Insights (FMI). Prospects of the ePassport market are influenced by a plethora of factors, ranging from protocols implemented by regulatory bodies such as ICAO, ACI, and IATA to improve border security, to smart airport initiatives such as biometrics.
The report on the ePassport market offers a detailed analysis of the market volume (Units), market drivers, challenges, opportunities and trends, industry growth factors, and value chain along with the collective opinion and perspectives of ePassport market participants. According to FMI analysis, the global ePassport market was valued at 16,458.1 Mn in 2017 and is projected to witness 7.4X expansion at an estimated CAGR of 22.1% during 2018-2028.
Request a report sample to obtain authentic analysis and comprehensive market insights at- https://www.futuremarketinsights.com/reports/sample/rep-gb-8987
Prominent Trends Governing Global ePassport Market
The global ePassport market report highlights various supply and demand side trends along with strategic recommendations and a detailed analysis of the ePassport market on the basis of various segments.
With the growing incidences of terror attacks and illegal activities on an international level, there is a strong demand for data encryption and data protection. Regulatory bodies such as ICAO, IATA, and ACI have formed numerous protocols to improve border security and thus, ePassports have been witnessing strong demand.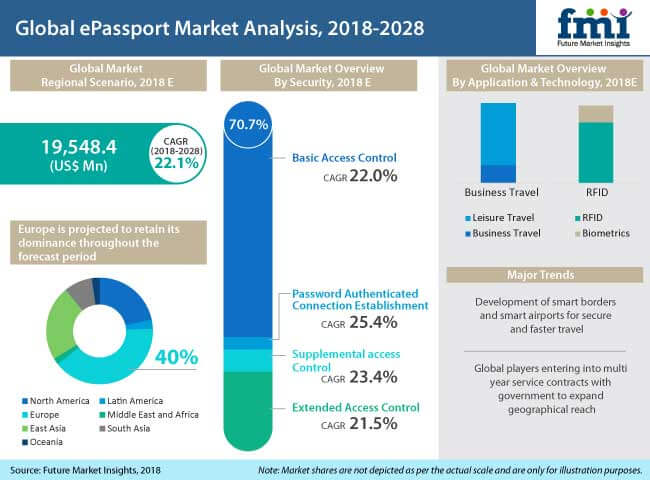 RFID Remains Preferred Technology while Biometrics Gain Marked Significance
According to the study, RFID technology has witnessed widespread adoption in ePassport generation, with global sales estimated at over 207,396 thousand units in 2018. New applications of RFID for ePassport have been introduced, however considerable privacy and security risks have been identified recently. This has led to the incorporation of multistage authentication for verification of ePassports, resulting in the adoption of biometrics in combination with RFID to reduce identity theft and fraud, while aiding governments in furthering their border security.
Data Security – A Key Challenge in Global ePassport Market
Although numerous advantages are associated with the use of ePassports, there are also a couple of disadvantages. For instance, if the owner loses an ePassport, someone can gain access to the chip for free. Fake chips can also be easily uploaded and hence, these passports are also not totally secure.
Biometric and chip-based information can also be hacked and utilized for illegal purposes, which is one of the major limitations of ePassports.
Discover more about report analysis with figures and data tables, along with the table of contents. Ask for Customization- https://www.futuremarketinsights.com/customization-available/rep-gb-8987
Key Players in Global ePassport Market
Some of the key players reported in this study of the global ePassport market include Gemalto N.V., HID Global Corporation, 4G Identity Solutions Private Limited, CardLogix Corporation, Infineon Technologies AG, IDEMIA, Eastcompeace Technology Co., Ltd., Primekey Solutions AB, and Entrust Datacard Corporation, among others.
Global ePassport Market Segmentation
By Technology
By Application
Business Travel
Leisure Travel
By Security
Basic Access Control (BAC)
Password Authenticated Connection Establishment (PACE)
Supplemental Access Control (SAC)
 Extended Access Control (EAC)
Contact Sales for Further Assistance in Purchasing this Report- https://www.futuremarketinsights.com/checkout/8987 
Table Of Content
1. Executive Summary
1.1. Global Market Outlook
1.2. Demand Side Trends
1.3. Supply Side Trends
1.4. Technology Road Map
1.5. Analysis and Recommendations
2. Market Overview
2.1. Market Taxonomy
2.2. Market Definition
3. Market Background
4. Global e-Passport Market Demand Value & Volume Analysis 2013-2017 and Forecast, 2018-2028
5. Global e-Passport Market Analysis 2013-2017 and Forecast 2018-2028, by Technology 
6. Global e-Passport Market Analysis 2013-2017 and Forecast 2018-2028, by Application
7. Global e-Passport Market Analysis 2013-2017 and Forecast 2018-2028, by Security
8. Global e-Passport Market Analysis 2013-2017 and Forecast 2018-2028, by Region
9. North America e-Passport Market Analysis 2013-2017 and Forecast 2018-2028
10. Latin America e-Passport Market Analysis 2013-2017 and Forecast 2018-2028
10. Latin America e-Passport Market Analysis 2013-2017 and Forecast 2018-2028
11. Middle East and Africa e-Passport Market Analysis 2013-2017 and Forecast 2018-2028
12. Oceania e-Passport Market Analysis 2013-2017 and Forecast 2018-2028
13. Europe e-Passport Market Analysis 2013-2017 and Forecast 2018-2028
14. South Asia e-Passport Market Analysis 2013-2017 and Forecast 2018-2028
15. East Asia e-Passport Market Analysis 2013-2017 and Forecast 2018-2028
16. Emerging Countries e-Passport Market Analysis 2013-2017 and Forecast 2018-2028
17. Market Structure Analysis
17.1. Market Analysis by Tier of Companies
17.2. Competition Dashboard
18. Competition Analysis
19. Assumptions and Acronyms Used
20. Research Methodology
Contact Us:                                                      
Mr. Debashish Roy
Unit No: AU-01-H Gold Tower (AU), Plot No: JLT-PH1-I3A,
Jumeirah Lakes Towers, Dubai,
United Arab Emirates
For Sales Enquiries: [email protected]
For Media Enquiries: [email protected]
Website: https://www.futuremarketinsights.com