Jace Tunnell, a marine biologist and the director of the Mission-Aransas National Estuarine Research Reserve, frequently scrapes North Padre Island's beaches to see what he can discover. From a note in a bottle to a whale rib, he has come across some weird items, including a scary doll head. But it's the weighty, rubber bails that have piqued his interest recently. He examines a splinter of one of them in his palms.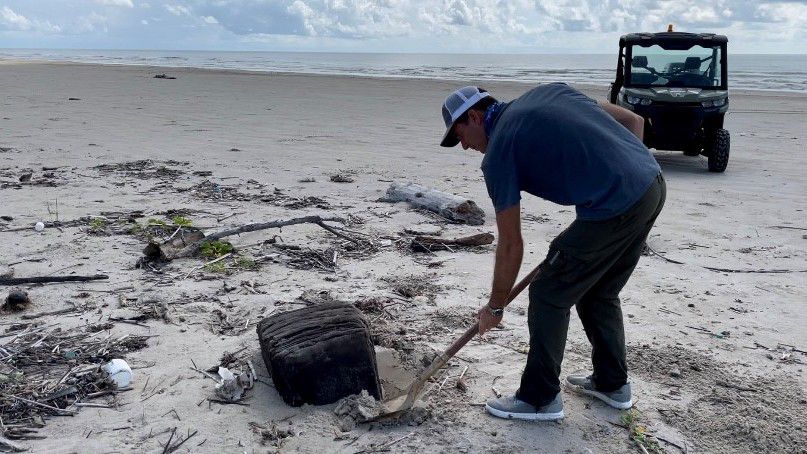 "It kind of looks like alligator skin or something like that," he said. "But once you cut into it you can really see where it looks like rubber lining inside of there."
He said they have found six of the large bails over the last couple years.
"They weigh probably about 150 to 200 pounds," Tunnell said.
They seem to pop up when the currents are at their strongest.
"Especially after storm events [these] things will show up," he said. "Last summer after Hurricane Hanna came through we found them on Mustang Island."
He claimed to have received a response from the Florida Fish and Wildlife Commission after publishing his photos on social media.
"He phoned me and said, 'Hey, those blocks, we're discovering them here on the beaches in Florida,'" Tunnell explained.
And the riddle was solved a month ago.
"We believe we know where they came from," Tunnell said.
The rubber blocks are thought to be from a German cargo ship sunk by the United States off the coast of Brazil in 1944.
"The ship is either withering away or someone is going down and fiddling with the ship, and these things are boiling over," he explained.
"There's actually footage from the 1940s with folks in Brazil picking up these rubber bails and putting them in their truck," he said.
Tunnell believes the rubber was most likely used to produce rubber products during WWII.